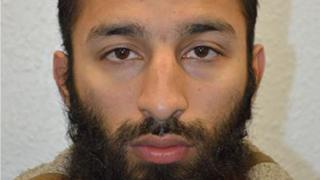 The family of one of the London Bridge attackers took his passport away to stop him travelling to Syria, an inquest has heard.
Khuram Butt booked a holiday to Turkey in 2015, but his wife Zahrah Rehman told the Old Bailey she refused to go.
She told her family she feared he would take their son on to the war-torn country, so they took both Butt's and the child's passports away, she said.
Eight people were killed in the attack Butt carried out with two other men.
The attackers mowed down pedestrians on London Bridge with a rented van before stabbing people in nearby Borough Market.
Butt, 27, Rachid Redouane, 30, and Youssef Zaghba, 22, were shot and killed by police less than 10 minutes after the violence began.
Armed police stormed Butt's home at about 08:00 BST the following day and arrested Ms Rehman.
She broke down in court as she described her shock at finding out what her husband had done.
She said she laid flowers on London Bridge in the aftermath of the attack and still cannot bring herself to look at photographs of Butt's victims.
'A normal family'
Ms Rehman said her family was originally from Pakistan, but she was born and brought up in the UK.
When she first met Butt through family connections she said he was "really confident", "charismatic",. and "quite light-hearted".
They had an arranged marriage on Christmas Day, 2013.
"We were just a normal Muslim family," she told the court.
But she said her husband was quite strict and would get "angry" with his sister if she came to visit without wearing a headscarf, she said.
And her brother had encouraged Butt to stop partying, stop drinking alcohol and "stop smoking weed", she said.
Butt had been upset about the plight of the Syrian people under President Bashar al-Assad, Ms Rehman told the court.
The room was shown a video of Ms Rehman and Butt on their honeymoon in Pakistan, during which Butt is heard saying, "Dawlat Islamiyah" – another name for the Islamic State group.
Ms Rehman said she did not know what her husband was saying as she did not understand Arabic.
In a second video, filmed on a plane, the couple joke about naming airports after extremists.
Ms Rehman suggests calling a London airport after Abu Luqman, an alias of radical preacher Anjem Choudary.
She said he was the first extremist she thought of and it was "just a stupid joke".
Butt 'wouldn't listen'
By 2015, Ms Rehman said she was aware her husband was sometimes meeting with Choudary.
She told Butt he should not associate with the preacher, but "he wouldn't listen", she told the Old Bailey.
She was not allowed to be in the same room as men, so would go into the bedroom when Butt's friends came to the flat, she said.
"I was usually on my laptop… watching my films… I wouldn't be paying attention to what they were talking about," she said.
Ms Rehman was told that by mid-2015 MI5 had intelligence Butt might be planning an attack in the UK.
But she said she was not aware of any plot.
At one point, the couple had an argument when Butt suggested taking a second wife, and she left him for about a month to live with her mother.
While they were separated, Channel 4 broadcast a programme featuring Butt called The Jihadis Next Door.
The court previously heard how during the programme Butt condemned the UK government, particularly over its actions in Iraq and Syria.
Ms Rehman told the Old Bailey: "I was really angry at him. I was really embarrassed and ashamed at him."
The pair got back together, she said, but continued to argue.
'Different lives'
On the day of the attack, Ms Rehman said Butt had a lie-in until 11:00 BST and did not kiss his children goodbye when he left.
The next morning, police told her Butt was one of the London Bridge attackers, but she said she "couldn't register it".
"I knew it was a possibility that he wanted to go to Syria… but he never told me that he hates this country and wanted to attack this country," she said.
She added: "We were living together. But it was almost as if we were living different lives."
She said that she did not observe the traditional period of mourning for her husband after his death or attend his funeral.
"I am not going to grieve him. What he did was disgusting," she said.
Xavier Thomas, 45, Christine Archibald, 30, Sara Zelenak, 21, Sébastien Bélanger, 36, James McMullan, 32, Kirsty Boden, 28, Alexandre Pigeard, 26, and, Ignacio Echeverría, 39, were all killed in the attack.
The inquests continue.